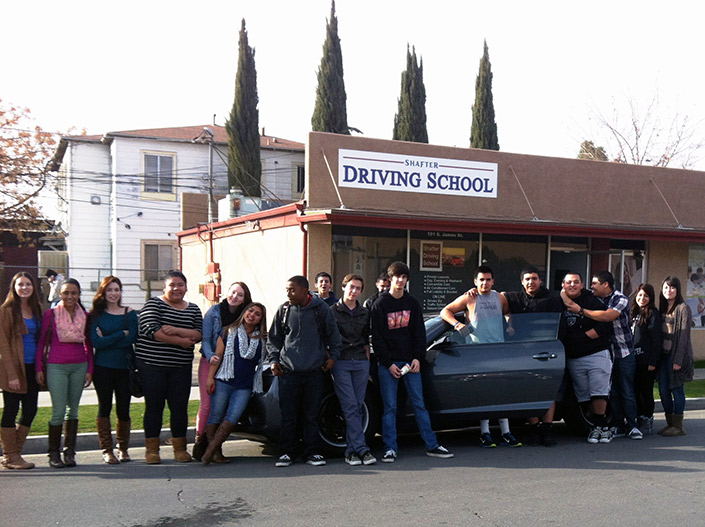 Driver's Education In-Class or Online
$349.00
CALL TO RESERVE YOUR SPOT 661-746-4565
Sign Up For Our Complete D.E. Online Here and/or Driver's Training
TERMS AND CONDITIONS
Cancellation Fee:      There will be a $60.00 fee for any behind-the-wheel appointments missed or canceled with-out 24 hour notice. Students appearing for a behind-the-wheel appointment with-out a valid permit will be subject to this fee.  
Expiration Policy:   All driver's education and behind-the-wheel lessons must be completed with-in six (6) months of date of first payment (RECIEPT DATE).  A reinstatement FEE of $120 will be required to finish the required hours of driving.
Bad Checks:     There will be a $60.00 fee for any returned check.
Refund Policy:    Shafter Driving School will not issue any refunds after the course has begun
While taking the classroom or driving classes with Shafter Driving School we reserve the right to use any or all photos for promotion or advertising purposes.  
As Parent or Guardian I understand that my student must drive 50 hours with me, 10 hours at night
CLASSES: at SHAFTER DRIVING SCHOOL
During the school year – Classes are held on Saturday

Four required sessions in total.

Holidays Classes during Christmas, and Spring Break

Summer Vacation – We have Classes Weekdays and Saturdays
During the school year, Bakersfield area Drivers Ed classes are offered on Saturdays. Each student is required to attend 4 Saturdays, for a total of 30 hours. Our school allows you to start anytime, and take the sessions in any order you wish as long as you take one of each session. Each Bakersfield area Drivers Ed class covers a different set of subjects and does not run into the next session. In other words, if you started on session 3, you now must completes sessions 1, 2 and 4 but in any order you wish.
Our Bakersfield area Drivers Ed classroom facilities are inspected by the DMV, they offer both comfort and availability.
Our driving school offers Bakersfield area Drivers Ed and has a DMV approved curriculum; there is a qualified teacher licensed by the DMV. The class is taught by showing videos, reading the DMV handbook, answering questions, and disscussion.